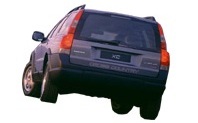 We have been selling new, used and rebuilt parts for Volvos to owners and repair shops for over 30 years. Since 1980, VOLUPARTS Inc. has served customers from our 18,000 sq-ft warehouse in Atlanta, GA.

Terry, William, Melvin & Bill are the veteran sales team. They have all been here for over 25 years each! These guys have heard it all by now and should be able to quickly assist you. Together, they may be the most experienced Volvo parts sales crew in the country!

Duane is working behind the scenes in used parts dismantling. He takes apart salvaged cars, tests the parts and then cleans up the mess, finally sending the hulk to the scrapyard.

Bill is the head honcho, sometimes answering the phone, but mostly ordering parts, putting out small fires, and replying to emails. He also does the other jobs that no one else will do. Call him if you need to "talk to the manager" (which can happen once in a while).

Are you tired of spending hours online unsuccessfully looking for parts for your VOLVO?
Contact us at 1.888.280.4057 or at mail@voluparts.com

You want more than parts. You want help, respect, accuracy, fairness, and solutions to your problems.

We appreciate your business

. We need to eat and you need parts.